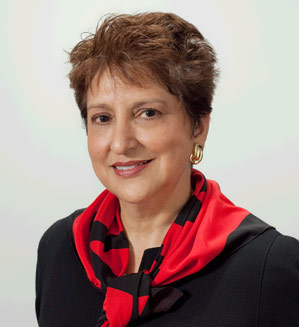 LAURA V. ESTRADA
President and Owner
Garza Business Services, Inc.
Estrada graduated from Texas Woman's University, Denton, Texas, with a degree in Radio and Television. Before entering the print industry Laura Estrada worked in the broadcasting field, the majority of that time as a Sales Account Executive for top radio stations in the Dallas/Fort Worth market. Today she is president and owner of Garza Business Services, a nine year old company specializing in legal, financial and corporate printing.
Community Involvement
Estrada served as the 2008-2009 Chairman of the Board for the Dallas Convention & Visitors Bureau. She is a member of the Executive Committee for Dallas Summer Musicals and is an active member of The Dallas Assembly, The Dallas Summit, HISPANIC 100 and Irma Rangel Young Women's Leadership School Advisory Council. Garza Business Services is a member of Dallas Regional Chamber, Oak Cliff Chamber and Greater Dallas Hispanic Chamber of Commerce.
Past Community Involvement
Estrada served as Co-Chairman of the City of Dallas 2003 and 2006 bond campaigns. She completed four years as Chairman of the City of Dallas Cultural Affairs Commission. Other community involvement included President of the Dallas Women's Foundation and President of Business and Professional Women's Club of Dallas. She also served as President of HISPANIC 50 (now called HISPANIC 100), a network of Latina leaders in Dallas. Estrada is a graduate of Leadership Texas and Leadership Dallas and was awarded the 2006 Leadership Dallas Distinguished Alumni Award.
Recognition
Estrada's extensive work on women and girl projects in Dallas over the last thirty years has been recognized with awards from:
YWCA
Women's Center of Dallas
Women's Enterprise Newspaper
Business & Professional Women's Club
Texas Woman's University, Distinguished Alumna
SMU, Profiles In Leadership award
Girls, Inc., She Knows Where She's Going award
Dallas League of Women Voters, Susan B. Anthony award
Girl Scouts of Northeast Texas, Real Girls - Real Women award
Greater Dallas Hispanic Chamber, La Cima award